My last post was about the colours of bigbang's Leader and Taeyang,
Now today im gonna continue to describe about the colours of Daeseung, Seungri and TOP.
First up is Seung Ri (Little Seung Hyun)
For Seung Ri the only changes of him is his hair cut and the piercing he had on his right ear.
Originally his style was like this;
this is his pic from the debut time. This Maknae is just only 16 years old
he made several changes into this;
Seung ri in 2010, he made his solo Album and it was a success
This pic shows how much he had grown up- He's a Man Now
(though still a maknae- aii~)
Maknae here posing for the Alive teaser cover 2012.. Look how manly he is in this pic?
Notice his shown abs and the hair cut?
Take a look on his right ear~ see the piercing? Ouch! doesn't hurt V?
This is another pic of Seung ri ssi - Fantastic Baby MV
This pic right now is just to show his piercing..it's like a toothpick~ a golden one
his wearing now military red jacket with torn jeans- Bad Boy MV
Seung Ri's story is a lil bit different than the other members, u guys know the story aite? at first debut big bang actually consists of 6 members, but CEO Yang had made preliminary auditions compulsary and out of 6 members only 4 were selected~~ yup dats right, seung ri was eliminated, but CEO Yang had made him work even harder for the second chance, alas, he was selected (P/S: the other member eliminated is now currently Hyunseung from Beast idol group)..
He was afterall the Maknae and the last of bigbang members that were selected..(insisted on calling him the young and cute maknae..Aegyo...~)
Ok, Next Up is Dae seung (a.k.a D-Lite)
Ya know in BigBang he is the only one who's stage name is his real name, other members uses other names.
Dae Seung Captures VIP's Heart with his charming sunshine smiles. though his eyes were pretty small, his smiles is out of the world;
Dae seung's pic when he first debuted
Gradually over time, he had change his image to a grown up version, he looks amazing though;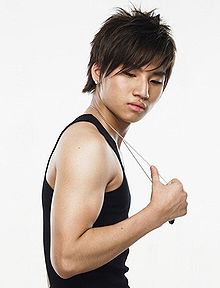 His bucking up his muscle~ show some manly side of his..aha!
take some point on the hair
later~ BIG Changes.
tadaaaaa! A blonde Dae Seung..
this photo was taken on 9 Feb 2012
His Hair on the teaser cover~ Bleach hair y'all
He is Daring aite? bleaching his hair and all that- Blue MV
So cool~~Daebak!

and what amazes me still is his bod;
see that tough body? im not a pervert and all but just admire his changes~ that's all
(p/s: im no fan of body builder, sory..-_-')
-from fantastic baby MV
This is another version of the teaser
For Dae Seung, other members reported that he is an easy going man, always like to smile and easy to make friends. No wonder the nunas especially loves him. Ever Since he got into the Family outing, he had various ages of Chingu~ His Sunbae, Jae suk, Lee Hyori~ He is a well respected young lad should i say, even Seung Ri is jealous of his popularity among the celebs! aha! (As Reported in Intimate Note)
Last but Not Least;
Introducing Bingu TOP (Big Seung Hyun)
Among all the other members, i think his changes is drastic, he had more colours for this 2012 comeback
come let's Check it out!
(Imma put lots of pic of it..i know aite! aha!)
this pic is from the Debut time. He is charming isn't it?
His Pic in IRIS
he act as a killer in the drama
Top stirring women's heart with his look




After IRIS, GD says he always dress up as a killer~ as in long over coats, pointy shoes, killer like hair;
He is always so mysterius. But yet he act ramdomly weird- that is so TOP
Look at him, his hair changes to white..haha~ still handsome though
Some Says when in stage of GDTOP, TOP looks like an uncle and GD looks like his nephew
aha! that is because GD is always dancing around the stage
and TOP just stand there sturdy in one spot and Rap
His looks on high high.
He looks like a killer aite?
TOP on the teaser Cover.. Look at His Hair! Minty!
His style on Fantastic Baby MV~ Like!
Fit As a King- Fantastic Baby MV
Even His Eyes are Frosty Mint Green
Style on Blue MV
His style while doing MV for Bad Boy and Blue
In strong heart YG Family Special EP 124- Handsome Boy!

On his early Debut he had face some trouble, he is the lead Rapper alright but he does not know how to dance well. Remember CEO Yang Had made some preliminary audition to finalize the members of big bang? well when he was made to have a dance battle, he really had a hard time! but he manage to overcome it. Hmm no wonder i don't see him dancing much. But His Voice is awesome, StarStruck!
Before i end this part two, let's see the Bingu TOP Acting his random Act!~~Cute!
click on it..yeah, happy watching!
Go Big Bang! and congratulation on breaking the 5 Year Jinx life span of korean Idols!
keep up the great work! Daebak!